Our age youngsters nowadays download lots of stuffs like games, appz , movies, music and so...where the size of many movies and musics that we download to our HDD seems to be more that many GB's that we download. So in order to save these movies in our HDD we get to upgrade our HDD size by adding a new master hard disk or a slave hard disk. But in order to add this we either do it in our own by meddling with our processor or we either pay the professionals in order to fix the HD. But now
Verbatim Corp
,
a provider of digital storage solutions, has now launched a

2.5-Inch Portable smart disk Hard Drives

in India which has a storage space of

500GB

and the size is just
9.5 mm Z-height drive

, just a palm-sized HDD.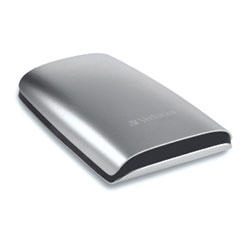 It is very much easy now by using this HD which is portable and is it plugged to the USB port in our system and can be accessed like our general computer hard disk. Similar to the computer HD in this portable HD the files can be dragged and added to the user's portable drive's icon or can be deleted or any file from the portable can be added to out PC. This
Verbatim hard drives are compatible with Vista and Leopard operating systems.
The USB models are now available in capacities of 120 GB, 160 GB, 250 GB and 320 GB.
Weighing 170 g and measuring 86 x 137 x 16 mm, Verbatim's new 500 GB 2.5-inch SmartDisk HDD requires minimal desk space when connected to a desktop system. It is very much useful for professionals who travel all time using their Laptops.